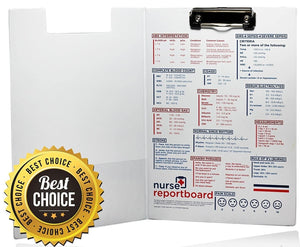 Nurse Reportboard®
Sale price Price $19.95 Regular price Unit price / per
Free Shipping!
The Nurse Reportboard® is an advanced, stylish clipboard for Nurses and Nursing Students.

Designed by Registered Nurses, the Nurse Reportboard® is slim and lightweight. No need for a bulky clipboard with unnecessary storage compartments.

Ideal for change of shift report, the board will make taking report a breeze. By giving you a solid surface to write on, it will provide you with a HIPAA compliant privacy cover to hide and store patient sensitive information.

Adult Nurse Reference information is printed directly on the inside of the board for quick and easy access.

Never forget normal lab values again! Chemistry, ABG, Coags, Hematology, Electrolytes, Spanish Phrases, Rule of 9's and More! All printed directly on the surface and not a cheap sticker.

An Inside storage pocket is available to keep extra report sheets & paper on hand.

Ideal for all Nurses and Nursing Students, the Nurse Report Board is the only clipboard you will ever need!